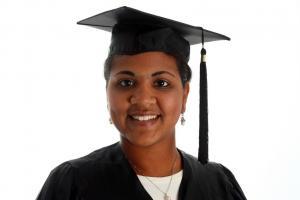 Feeling stuck in a dead-end position, earning a relatively low salary in your chosen profession? Or are you an undergraduate student concerned about your income potential after graduation? According to experts, earning an advanced degree can not only enhance career advancement and your overall sense of personal fulfillment, but it also can increase your potential earnings by as much as 30 percent. This could transform your lackluster $45,000 annual salary to close to $60,000.
Thirty years ago, a bachelor's degree may have been adequate for many entry-level professional positions, but this credential no longer guarantees a hire or promotion in many settings. In fact, U.S. News and World Report Education suggests that a master's degree is now a minimum requirement for even entry-level positions in certain fields, such as social services and college administration.*
The cost of graduate school may seem daunting, but there are many scholarships, grants and fellowships available. Many universities offer teaching assistantships to full-time graduate students. These grants often cover the full cost of tuition and fees while requiring students to gain valuable experience assisting professors with teaching and grading. Begin your research at fastweb.com and gradschoolroadmap.com.
Prior to applying, however, there is a great deal of preparation that must begin years in advance. As the admissions officer for CSU's English Master of Arts Program, I am amazed at the prospective students who call me midsummer wanting to secure admission to a graduate program that will begin in a few weeks! It's as if they woke up one morning and said, "I think I'll get a master's degree in English," but the reality is they have no foundation of appropriate courses in the discipline and no track record of activities, teaching or leadership positions that demonstrate commitment to the field of English Studies beyond sitting in the classroom for a few courses.
For undergraduates, the time to begin thinking about graduate school is perhaps sometime during sophomore or junior year, and the time to start thinking about the process of applying is at least a year in advance. This will allow time to take the General Record Examination (GRE), MCAT for prospective medical students, LSAT for prospective law students, and any in-house entrance examinations required by a particular program.
Graduate admissions can be very competitive. For example, I have served as the reviewer of admissions essays for Chicago State University's Master of Occupational Therapy (MOT) Program. I have learned that there are only 25 available slots but about 200 applicants for that program each year. The strongest candidates for graduate school often have had many varied experiences that help to demonstrate long-standing and long-term commitment to the field.
Thinking about graduate school? Whether you are completing or have already completed a bachelor's degree, use the following checklists to gauge your level of preparedness. Many of the examples of courses and activities are from the field of English, because I know it best, but you may think of relevant examples for your own field.
Basic Items
____ I have an undergraduate degree in the relevant field.
____ I have taken at least eight relevant courses (24 credit hours) beyond the 1000-level basic
courses in the relevant discipline, and have passed each with a grade of B or better (or
have a GPA of at least 3.0 in those courses).
____ I have an overall cumulative GPA of at least 3.0. (Note: Many programs require a
higher GPA.)
____ I have taken a broad variety of courses in the relevant discipline (e.g., in the field of
English, survey and advanced courses in American Literature, British Literature, Third
World Literature, Writing, Publishing, Editing, etc.).
____ I have met with an advisor for the program in which I am interested to determine the
suitability of my academic and professional backgrounds, and to ensure these are a good
fit for that program.
____ My transcript(s) do not display many, if any, W-type grades (W, W/I, W/P, W/F). A
word of caution: Having too many course withdrawal and incomplete grades suggests
that you do not finish what you start on a timely basis or at all.
Bonus Items
____ I have tutored (either in a paid or unpaid position) in this discipline.
___ I have interned (either in a paid or unpaid position) in this discipline.
___ I have been a member and/or held a leadership position in relevant student clubs or
professional organizations (e.g., English Honors society, student newspaper or literary
magazine, National Council of Teachers of English, etc.)
____ I have taught at the elementary, secondary or post-secondary level in this discipline.
____ I have presented papers of relevant original research in this discipline at professional
or student academic conferences.
____ I have attended relevant conferences.
___ I have published in scholarly journals or other appropriate publications in this discipline
and/or I have had a book(s) published or have self-published a book(s).
____ I have volunteered for relevant community service events or activities (e.g., helped out at
book fairs, sat on a committee to plan a literary or writing conference, developed an after-
school tutoring program in the discipline, etc.).
____ My personal statement that accompanies the application is error free, has relevance, and
answers the 'why I want a master's degree in this field' question with great intellectual
depth and breadth.
____ I have taken the GRE or relevant standardized test(s).
____ I have taken any required in-house tests.
___ I know the application deadline and have applied early.
Here's wishing you success in your pursuit of admission to the graduate program of your choice!
*Source: "6 Reasons Why Graduate School Pays Off," by Dr. Don Martin. U.S. News and World Report Education. Web. June 29, 2012.